Economic utilisation of IsViews technologies (RSS GmbH)
3D processing and visualisation technologies, developed by RSS GmbH within the IsViews project, are used not only for research purposes but also for various economic projects in Iceland.
1) 3D Modell of Akureyri
The city of Akureyri was modelled in 3D using very high resolution UltraCam data, in order to develop and test new technologies that also can be applied for the visualisation of steep mountainsides. This is an important and challenging task for natural hazard risk assessment, e.g. floods.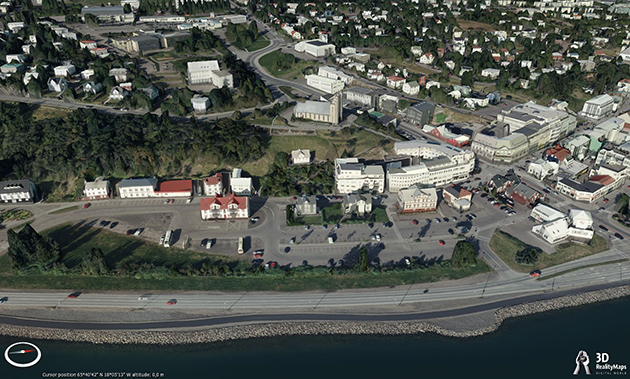 2) Parking place at Askja
An UltraCam orthophoto with 20 cm spatial resolution and digital elevation model with 40 cm resolution were used for planning a new parking place for tourists at Askja caldera. After the enormous rockslide at Askja in July 2014, which fell into lake Öskuvatn and triggered a tsunami, it is very important to consider natural hazards.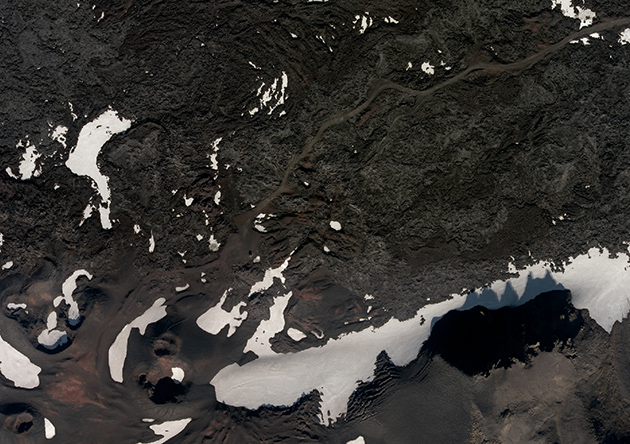 UltraCam orhtophoto, acquired at 27.08.2014 with 20 cm spatial resolution, showing the road and old parking
place at Askja tourist sight, © IsViews project.
3) Skrokkalda Hyrdopower Plant
Landsvirkjun, the National Power Company, is using the Iceland 3D visualisation technology for presentation of new infrastructure projects. The following video, produced by RSS GmbH, shows the planning of a new Hydropower Plant south of Hofsjökull: