TerraSAR-X Staring Spotlight
Innovative results presented at the EGU Conference 2014
About 100 scientists listened to Christian Minet's presentation "Monitoring glaciers and indications of subglacial volcanic activity using small-scale Top-Hat reflectors - An IsViews experiment on Myrdalsjökull, Iceland" at the EGU Conference in Vienna, Austria (27.04.-02.05.2014) and gave positive feedback.
For the first time, data from the new TerraSAR-X Staring Spotlight Mode (spatial resolution up to 20 cm!) were presented at the conference.
Within IsViews, the DLR was able to measure glacier flow velocity using Top-Hat reflectors and Staring Spotlight images.

A daily movement of 6.6 cm between 25. August and 10. September 2013 was calculated for Sléttjökull outlet glacier.
This is in good agreement with our first results from feature tracking analysis by means of RapidEye data, where we estimated an annual movement of Sléttjökull of about 20 m.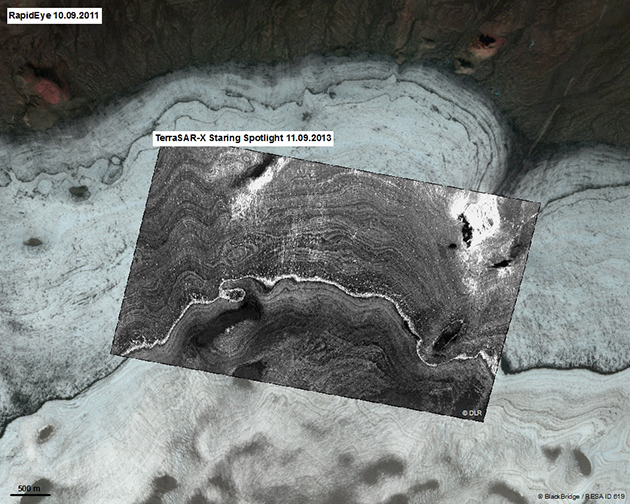 TerraSAR-X Staring Spotlight image on top of a RapidEye optical image showing the prominent ash band
on Sléttjökull outlet glacier.