Fieldwork
Glaciological investigations
First investigations about the feasibility of the near real-time warning system and the general baseline conditions focus on Mýrdalsjökull.
In order to discriminate between glaciological processes (mass balance, ice deformation) and subglacial processes (melting due to volcanic heat) it is important to understand the behaviour of the glacier.
Therefore, in August 2013 two permanent GPS stations and stick gauges were installed on the northern part of Mýrdalsjökull to measure glacier flow velocity and melting rates (ablation).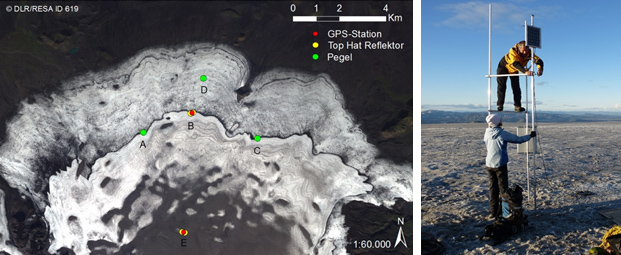 Installation of two permanent GPS stations, four Top-Hat reflectors and three stick gauges ("Pegel") on Sléttjökull outlet glacier in August 2013. The photo shows the GPS station at point E nearby the equilibrium line.
Top-Hat experiment
In the course of the fieldwork in summer 2013, four experimental radar reflectors were installed close to the GPS stations on Sléttjökull outlet glacier. These small (50 cm diameter) Top-Hat reflectors were newly developed at the German Aerospace Center DLR.
The aim of the experiment is to find an innovative and cost-effective way to monitor glacier movement and possibly even melting rates.
Prerequisite for the experiment is the Staring Spotlight Mode of the TerraSAR-X satellite, which was newly implemented in 2013 with a spatial resolution of up to 20 cm. To date this exceptionally high resolution was not available for civil purposes.
Staring Spotlight test images were acquired right after installation of the Top-Hat reflectors. On these images the reflectors could be identified due to extremely bright backscatter values of pixel size.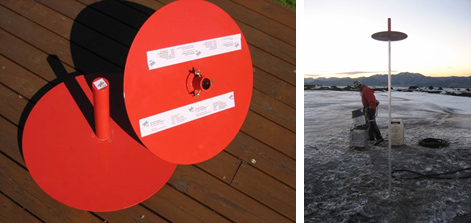 Small Top-Hat reflectors, before and after installation on the glacier.
More photos from the fieldwork are shown in the PHOTOS section.